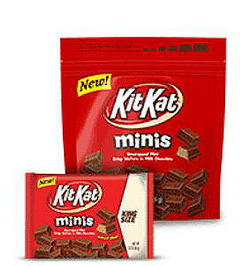 Kmart has Kit Kat Minis on promotion right now so if you buy four you receive a $5.00 Kmart Award Card.
Click the coupon link below and share to print a $1.00 Kit Kit Minis coupon. Pay just $0.25 per bag, or use doubled coupons and pay nothing after the Kmart Award card. In fact, it's a $3.00 moneymaker! This deal requires two computers.
Kmart doubles coupons after reaching a $25.00 minimum in grocery, health and beauty items before coupons. Kmart will double five manufacturer coupons up to $1.00. 
Yes, you have to use a coupon you print on the Walmart website to get this deal!
Buy 4 Kit Kat Minis, 8 oz $2.50, sale price through 6/1Spend $10.00, Receive $5.00 Kmart Award Card through 6/1Use four $1.00/1 – Kit Kat Minis King Size Bag or Kit Kat Minis Pouch, 8 oz – (walmart.com)
Pay $6.00, or $2.00 with double, Receive $5.00 Kmart Award Card
Final Price: $0.25 each, or $3.00 Moneymaker with double