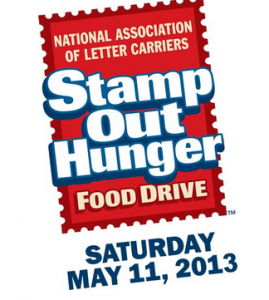 It's once again time to STAMP OUT HUNGER – SATURDAY, 5/11/13.  Please help spread the word!  I love to use my stock pile of goods for this and help others out.  I get so much for free or just about free so this is a great way to share the wealth!
On Saturday, May 11, 2013  Campbell's Soup Company will team up with the National Association of Letter Carriers (NALC) to collect food donations in order to provide assistance to the millions of Americans who are struggling with hunger.  Letter carriers across the country, in partnership with the U.S. Postal Service, will be collecting food for families in need for the National Association of Letter Carriers Stamp Out Hunger Food Drive.
This is a SUPER EASY way to help, and only requires that you leave a bag of non-perishable food items by your mailbox.  If you have a "community mailbox, stick a note in your mailbox and tell the driver to stop by and pick up the goods from your door or better yet tell them to honk and you will bring it out too them.  You can also drop items (bagged) by your local post office.
How You Can Help:
Collect and bag non-perishable food items (no donation is too small)
Leave your bag by your mailbox on Saturday, 5/11/13.
Your letter carrier will pick it up and deliver the food to a local food bank, food pantry or shelter.
*Examples of non-perishables to donate include: peanut butter, canned soup, canned meats & fish, canned vegetables, fruits & juices, boxed goods such as cereal, pasta and rice.  Please do not include items that have expired or are in glass containers. Also these are FOOD ITEMS.