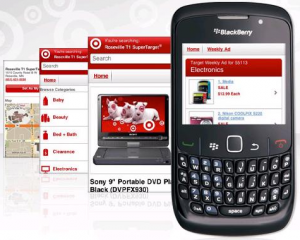 Target Mobile Coupons are a easy way to get great deals and stretch your savings even further. Mobile coupons are Target Store coupons that are sent directly to your phone to be used for in-store purchases. You just pull up the text on your phone, hand it too the cashier and she scans your phone, it's that easy.
How do I sign up?
You can sign up to receive Target Mobile Coupons HERE. You will need to have an internet-capable phone in order to retrieve the coupons. Keep in mind– text messaging & data charges will apply depending upon your phone's plan. If you have any questions, you can text HELP to 827438 for information. If you wish to cancel, you can text STOP to 827438 (you'll receive a confirmation text or further instructions).
I signed up but I didn't get the coupons?
Once you're signed up, the coupons should arrive every other Saturday automatically. This is auto loop of coupons and not the special coupons I mentioned.
Sometimes there is a glitch and  you may not get the coupons automatically- but you can text the word OFFERS to 827438 and get a text back with a link to the coupons. Once you tap on that link your coupons will come up. So no worries if you do not see it!
*PLEASE NOTE* When first signing up, you may not get the current cycle of mobile coupons, (hopefully you will) but if you don't, you should be good to go for the next cycle.
Target will send alerts to your phone whenever new coupons become available.
How do I redeem my mobile coupons?
All you have to do is show your coupons on your phone's screen at the register and the cashier will scan the barcode that appears on the top. There is no cutting coupons to save.
This same bar code at the top applies to all the current coupons, so for example if you are buying 2 different products that there are two different mobile coupons for $1 Off each, when that bar code is scanned, both coupons will come off for a total of $2 savings.
Just so you know, Each Target mobile coupon is meant to be redeemed only once as the terms read "Limit one item or offer per coupon" So if you buy 2 identical items, only one coupon will be applied. It's a bummer but this is because the coupons are usually really high value.
Also remember- since mobile coupons are still Target Coupons, they can be stacked with Manufacture Coupons just like their print coupons. This will allow you to save even more!  Score!
Target Baby, Plus-size & City Target coupon & savings offers….
Target has other mobile coupon programs and you do not need to be signed up for regular mobile coupons to get these savings. These are specialized coupons based on things like if you have a baby or if you live in a certain city.
Unlike the regular mobile coupons- these are not on a schedule and offer periodic coupons. Also- for some, first time users will get rewarded right away with an online discount code along with occasional mobile in-store coupon offers. Here's a few of the special  programs currently being offered:
TARGET BABY: You can sign up to receive discounts on baby deals by texting the word "BABY5″ to 827438. First time users will receive an instant reward – a code for 10% off Baby Purchase online only, valid for 30 days. You will be alerted to other baby coupons as they become available.
TARGET PLUS ALERTS: You can sign up to receive discounts on plus size apparel by texting the word "PLUS" to 827438. Once you're signed up, your first text should include a 15% Off Plus Apparel coupon code to use online. You'll also get alerts whenever other special discounts are available.
CITY TARGET MOBILE OFFERS: If you are a resident of Seattle, Chicago or Los Angeles, you can also text "CITY" to 827438 to be signed up for occasional mobile coupon offers at your local CityTarget location.
Other Additional Special Mobile Coupon Offers
From time to time- Target also offers special mobile coupons by texting a certain word. I try and stay on top of the latest ones as much as I can and also offer manufacturer match-ups for all mobile coupons on my Target Coupon Page.