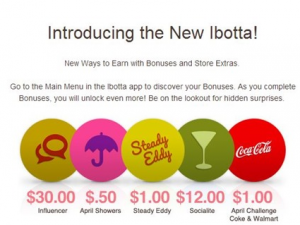 The New Ibotta App has just been released! It is really cool!  If you are using the  Ibotta app already now you will need to update to the new App because they will be discontinuing their older version. So grab your iPAD, Phone or other smart phone and do it now before you forget!
The coolest thing is with the new Ibotta App you will now be able to see bonuses, store extra's and new features which makes this app even better to use! When you see the New Ibotta, just go to the Main Menu of the app and then  you can explore Bonuses which allow you to earn additional cash when you make your purchases. You can complete Bonuses, that will unlock even more and more savings as you buy the items.
What is Ibotta and how does it work?
Ibotta pays you for things you already buy.  It is really quick and easy and you can organize what you will buy when you make your weekly shopping list and organize coupons.  All you need is your smart phone!
Currently, Ibotta works in every: ​7-Eleven, BI-LO, CityMarket, CVS Pharmacy, Dillons, Dollar General, Dominicks, Duane Reade, Family Dollar, Food 4 Less, Fred Meyer, Fry's, Giant Eagle, H-E-B, Harris Teeter, Hy-Vee, Ingles Markets, King Soopers, Kroger, Meijer, Pathmark, Pavilions, Pick 'N Save, Publix, QFC, Ralphs, Randalls, RiteAid, Safeway, ShopRite, Smith's, Stop & Shop, Target, Tom Thumb, United States Armed Forces Commissary, Vons, Walgreens, Walmart, Wegmans, WinCo Foods, Winn-Dixie
So if you have never used it, here is the best way to do just that.  You start saving right  away and you can be rady to shop with the app in just a few minutes.
Follow this tutorial:
Step 1: After signing up and logging in and going through the initial app tutorial, you select the product offers that are of interest to you and complete the tasks that are of interest to you to start organize your savings plan.
Step 2: Once you have activated all of the items you intend to purchase,  then hit the store and go shopping!
Step 3: Upon return from the store, select "Redeem" in the lower right-hand corner of the Ibotta Product Gallery. From here, select the retailer you have purchased your items from.
Step 4: Read the tips, then select "Continue" at the bottom of the page. (Don't forget to upload the entire receipt including the logo, date and total). This is super important!
Step 5: After uploading the receipt, check and barcode scan each item on the receipt available for redemption (Note: for iPod 4th generation and iPad2 users, you will not be prompted to barcode scan). Once submitted, your receipt is now on it's way to us for review, and most receipts will receive credit within 24 hours!
It really does add up fast!  You just have to remember to add this process into your planning.  If you use meal planning…this will be an amazing app for you because you can use the featured products to plan your meals and save even more!